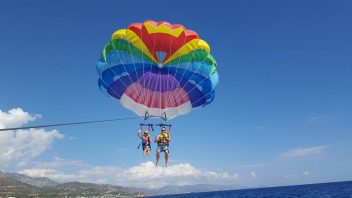 Parasailing in "Long Beach" is not difficult. Just come and look or if have any disbelief, you can ask anyone who tried it before.It is safe, …
Read more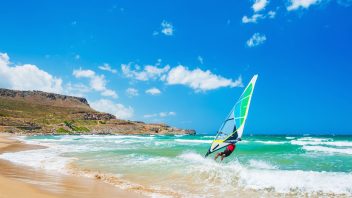 Our beach side is not only terrific for all types of water sports but we offer other exciting adventure sports as well. Take your family out …
Read more
Long-Beach Parasailing Centre is a fun, entertaining water sports club on Crete Island, Greece with years of experience in the water sports field since 1994.
The Club is located in the centre of Long- Beach, in front of Club Calimera Sunshine Hotel . Long Beach is one of the most popular beaches on the eastern part of the island, only 10km east of Ierapetra City, near the village Koutsounari. It is easily accessible by bus, bike, car or taxi. The beach also has a number of well known hotels, restaurants , beach chairs and umbrellas, a mini-market and tourist shops.
Our friendly, qualified and experienced ,staff provide safe, exciting activities and lessons for all ages and levels in a wide range of water sports. Beginners and experts will enjoy waterskiing with our high quality equipment and speed boats. Our experienced boat drivers can take you on an action packed banana ride, sofa ride ranging from extreme to easy rides. Jet skis are available for rental within the specified local limits, no experience is required, we will show you how!
Come and experience with us the excitement that water sports bring and make your holidays unforgettable !
Browse through our pages for more detailed information on the fun we can provide.
---
DO YOU AND YOUR FAMILY NEED A VACATION?
The best experience in my life. It was so exiting. Thank you guys. And messenge for you, should go and try, dont be afraid.
Es war eine sehr schöne Erfahrung, die mein Papa und ich machen konnten. Es war einfach nur amazing und unvergesslich. Ich werde es nochmal wiederholen😊😍. Thank you very much Parasailing long Beach Ieapetra and many greetings see you😊👋
This was amazing! Very nice people and wonderful experience... Thanks guys!!!
We did the Parasailing with the Long-Beach-Team and it was a great fun!!!! ☺ Professional Team!!!! Thank You!!!